Our homes are like a giant ball of yarn and we've got to unravel it all in order for it to function beautifully. It's all connected.
I remember sitting at the foot of my Great Grandma's recliner chair. She showed me how to take a piece of yarn from the center of the skein and pull gently then start winding a small bit around two fingers then fold that in half and start wrapping until I had a perfect ball of untangled yarn. She didn't have many toys. One time when she was babysitting me she let me play with her yarn. I was thrilled to choose a roll from the glorious basket beside her chair full of brightly colored yarn. She lived in a very small house. I took the ball of yarn and wrapped it from one corner of the living room and back to the the other side. I tied it to the tops of chairs and around table legs. I was delighted with the result. I thought it looked like laser beams shooting all over the room. It was fantastic.
My Mother came to pick me up and gasped at my "mess." I just started at one end and started wrapping until I had untangled the whole room and had a neat ball to put back in the basket. This is what I still do today.
When I walk through a house I see much more than stuff out of place or decor that needs updated. I hear stories full of twists and turns and things that need to be unraveled. There is often one spouse that desires things be neat and minimal while the other just can't let things go. I talk to clients who themselves or their children are challenged by ADHD and thinking about organizing things gets them overwhelmed and locked up. I work with a lot of Moms who are tired and hanging on by a thread. They are working inside the home, outside the home, up at night and exhausted. They just need reinforcements to come in and reset their life that has become unraveled from not enough time in a day or energy to get it all done.
Nothing makes my heart more full or my body more energized than coming alongside of you. I love to hear your stories and be invited into the sacred space that you call home. There is no greater delight than at the end of our time together I hear you declare that you love your home, that your spouse was so happy, or you are able to entertain again. Honestly, watching you thrive is my core motivation.
I will let you in on a little secret that only my family really knows. I can be really messy. I'm a creative. My desk is generally layered with notes and inspiration pictures, swatches, a tape measure and a cup of tea. I can work with a tiny clear space and half of a mouse pad. My husband….not so much. If he has to sit down at my desk for some reason he can hardly breath. He get's locked up, frustrated and irritated. I keep things tidy out of love for him and because I love things that look beautiful.
Let me tell you one of my superpowers: Messes don't overwhelm me. It is super fun game for me to untangle your challenges sort and beautify. I'm addicted to the before and after. It is so satisfying.
I've learned a few things along the way. One of the biggest keys to success is this; Always start with yourself. Don't go trying to fix your spouse or your kids or someone else's space. Get your own stuff in order first. As you seek to unravel your home, address these three challenges:
Always, always start with your,"Why".
Why do you crave order and beauty in your space? Is your spouse at their breaking point and this is your way to show them love? Does your family life feel chaotic and you need to create a space that feels peaceful? Are you weary and taking care of all of the stuff is too much to manage? Are your finances out of control and you need to get a grip on what you need and where there is excess?Are you embarrassed to have people into your home?Is it time for a change and you need to prepare for a move, a remodel or a fresh start?
Answering these questions will reveal one of the most powerful tools to creating the home you desire -MOTIVATION. When you feel like quitting the sorting, purging, painting, saving for the remodel, your WHY will keep you pressing on.
Get to the root of the problem.
The problem is often not the problem.
Here are a few things that plague a lot of us:
Depression.
Your messy closet may be the result of too much shopping which has been your way of masking depression or trying to make yourself feel better about the way you look.
Fear.
We are afraid that there will not be enough tomorrow so we hang on to yesterday.
Fear shows up often for me. I recently cleaned out my linen closet. It was jammed with extra bedding, beautiful bright quilts that my girls had on their beds when they were little. I will tell you my honest, ridiculcous rational for why I was saving them.
First, I feared that the world was coming to an end. Let's be honest 2020 was no cake walk. Business' closed, riots took over our streets and political tensions were at record highs. It's not hard to imagine a day when it is hard to afford heat and I want to be able to layer my children's beds with piles of blankets so that they will be warm.
Second, I dream of one day owning a cottage and extra quilts seem like they could be used again…someday. I fear I will regret getting rid of them. It feels silly to write out those fears, but that's what's in my head. I did ultimately decide to live in today and set them free. I posted them on marketplace and my phone blew up with people who wanted them and could use them right now. They blessed a couple of families and I got cash under my door mat that I'm stashing until I have something really amazing to spend it on.
Your past.
Maybe you didn't have much growing up and now you have plenty but still live hanging on tightly to all of your possessions.
Depression. Fear. Our past.
They all steal from us. If we want to untangle the mess that we we call home we've got to unravel these tender places first.
Create a vision.
Vision is a powerful tool.
One of the things that I hear most often from clients is this, "I know how I want my house to FEEL, but I don't know how to get it there."
I think having a visual picture of our dream space propels us forward and keeps us on task. Maybe you dream of the perfect pantry with matching baskets and labeled containers. For someone else they want their home to feel light and clean or cozy and warm. I encourage you to find pictures of the things that you are drawn to and save them. Then refer back to them often for inspiration.
When my daughter was updating her room we put my phone on her bed with the pictures she had selected of what she wanted to have her room feel like. When she wasn't sure what to keep or donated we looked at the picture and asked, "Does it fit into your new look? Does it have the right feeling?"
This photo was my inspiration/vision when I was redoing my office. I had staged this home for a client and fell in love with this leather furniture.
I created a vision board as a map for where I wanted to get.
Ask for help.
If you find yourself sorting through piles that have taken years to accumulate I assure you that you will find much greater success if you do it with someone by your side to help. It is so good to have a person who we can tell the stories to, ask for affirmation and keep us on task. When you are shopping for new organizing systems, furniture or decor it is freeing to have someone who shares your vision come along as a guide and a person of affirmation. I promise you this is not a sales pitch, but I'd love if you invited me on your journey.
I told you at the beginning of this post how my own office can get awful messy. I have personally walked the path that I ask you to walk. I recently renovated the space. I had a hard time letting go of the oversized, super practical desk that was in my space, but it didn't fit my vision so I let it go. I saved up and got the exact furniture that I always wanted. I created organizing systems that make my bookkeeping and material samples easy to find.
Please know this, achieving the home of your dreams is a process. It is true that at the end of the day I have piles all around me again. To me piles are proof that I have been productive. However, I've learned to clear it all away so that I can start the next morning in a fresh space with a new beginning. Everything has a carefully designated, labeled place to belong so it no longer takes brain power to tidy up.
After order is achieved comes beauty. Once I addressed the hidden spaces, the closets, drawers and cabinets then I created a space that makes me want to keep it beautiful. My new white lacquered desk, blue velvet chair and leather sofa make me want to keep my office show ready for anyone who steps in my front door. My original art makes me smile and earning the furniture that I always wanted makes me feel proud. Now I'm inspired to design and host clients in my office.
Office space BEFORE: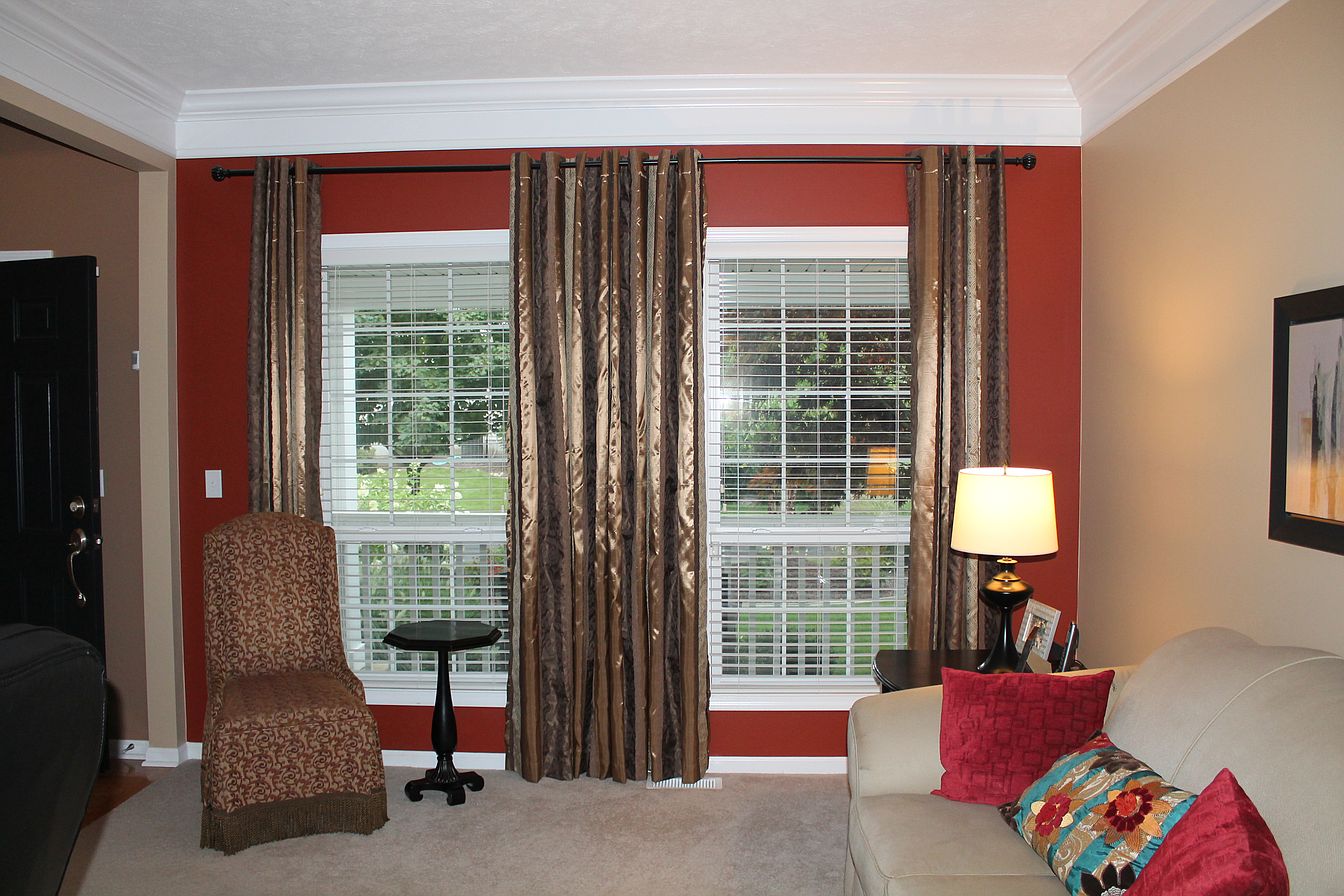 Office Space AFTER:
Beautiful spaces nourish our souls and I don't apologize for that any more. I want that for me and for you. I recognize that our Creator God gave us the sun that streams in the window on a lovely winter morning. He gave flowers in spring and color changing trees in the fall. The desire for beauty and order are hardwired in us as humans who are made in the image of God.
As you look at your home and feel overwhelmed and locked up because it feels like a ball of tightly knotted yarn remember this. You are not alone. Together we can find the end and start to gently tug at one space at a time. We can get it. It will be beautiful.
Paint color – Edgecomb Gray- Benjamin Moore
Sofa/Loveseat- Talsma's
Desk- Amazon: https://amzn.to/2MxSP4t
Office Chair –
https://amzn.to/3axwvzT
Coffee Table-https://amzn.to/3tl9hFI
Desk Lamp-Target
Floor Lamp- Homegoods
This post contains affiliate links. I will receive a small compensation if you follow the links. It does not cost you anything. Thanks for your support of Skinny House.